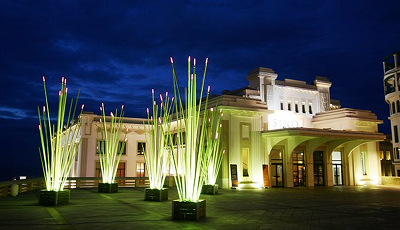 The conference will be held at Casino Municipal, Biarritz (France).
Situated on the French Atlantic coast, at the western end of the Pyrénées mountain range, Biarritz is a friendly and attractive town benefiting from the mild weather of southern France. It can be easily reached by plane or train and offers more than 2,300 hotel rooms. With 6 km of beaches, Biarritz is the historical capital of surfing in Europe. You can also find there the secondoldest golf course in Europe, 5 thalassotherapy centres and a casino.
The town is just a stone's throw away from Spain and is less than 150 km away from Bilbao and its famous Guggenheim museum. Biarritz is also located at less than 200 km from Bordeaux and its world-famous wineries. It is a perfect starting point to explore the Basque country, with its authentic countryside and charming villages. A half-day excursion will bring the participants to selected spots around the town, and the symposium diner will be the opportunity to enjoy French gastronomy.